American Destiny Real Estate HELPS CLIENTS WITH ALL THEIR REAL ESTATE AGENT NEEDS
ADR is the premier national leader in Real Estate Agent Management Services. ADR assists clients that need local and professional representation to achieve their strategic goals. ADR's relentless commitment to quality, accountability and customer service propels our clients to realize greater efficiency and bottom line results.
"Simply a better solution for managing your assets"
Our Network
Agents
Our focus was never on having the largest network, but it has always been on assembling the best one! All agents are vetted for experience, licensure, insurance, references and communication skills. ADR supervises all compliance documentation acquisition, storage and updating.
Quality
ADR evaluates our real estate agents on all transactions and conducts onsite inspections to ensure we are consistently providing the finest services to our customers and clients. Future assignments are placed to the best real estate agent based on their previous evaluations.
Scope
ADR's footprint encompasses all 50 states and Puerto Rico. We have assisted our clients with the location and oversight of real estate agents in some of most rural areas as well as urban and everywhere in between.
Value
ADR is uniquely qualified to manage real estate agents because we are agents ourselves. We understand their
challenges and we appreciate the demands that are placed on them every day. ADR's effectiveness is rooted in our ability to communicate effectively with our network in the language that agents understand.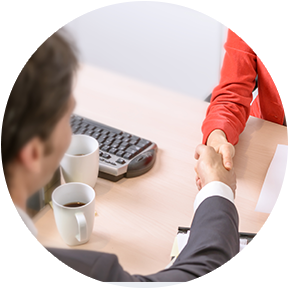 Our Services
ADR provides turnkey solutions as well as customized services to meet our client's specific needs. We leverage the local expertise of the thousands of professional real estate agents in our network to provide quantifiable results to our clients.